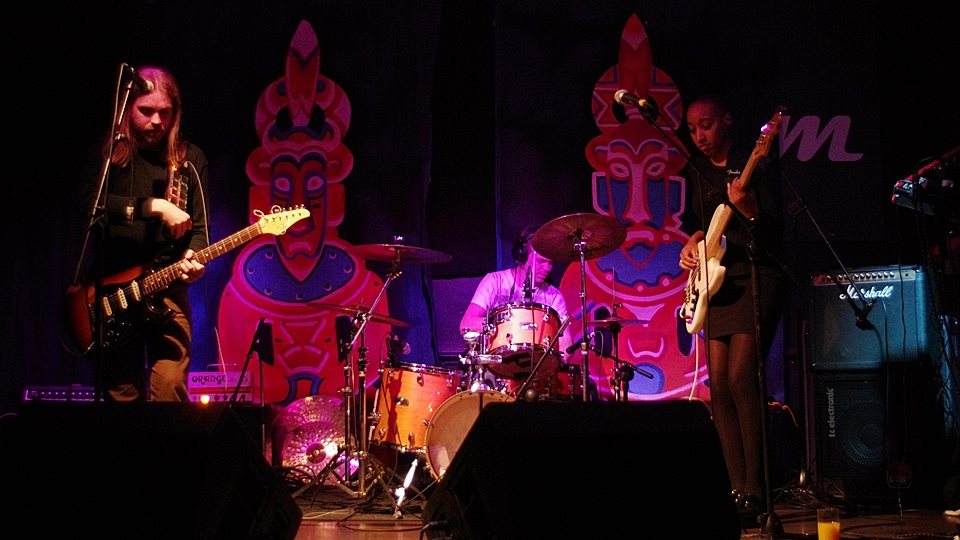 Something to Rave about: Lifecycle
Something to Rave about: Lifecycle
Drunken Mermaid was introduced to Lifecycle – one of the most unique bands we've ever covered – by Andrea at Blue Soap Music. They need to be heard to be explained, so we're going to cut to the chase without trying to evoke images of multi-level dance clubs in Piccadilly on a Saturday night where the water is shut off and you've just…
[youtube https://www.youtube.com/watch?v=SVtWI6RKUFE&w=560&h=315]
drunkenmermaid.com: You started off as an electronic act – how did this end up developing into a live band?
Lifecycle: Yeah, in the 'noughties' we released quite a few dance 12"s, experimental breakbeat records on some interesting labels – Electrofly was one, and LondonBreakz released our dirtier stuff. It was an exciting time for electronic music – 90s rave had mutated into all these crazy little scenes … and breakbeats have a timeless, crunchy quality that is quite addictive. The three of us all have our roots in rave culture, but there's something you get with a full band jamming that's really different from a laptop or DJ set. Fusing that stuff together is a challenge …
drunkenmermaid.com: Who influenced the current Lifecycle sound and inspired you to play live dance music?
Lifecycle: Our sound is quite a mongrel … we're hoping to weave enough influences together that it's impossible to tell what came from where. There were moments back in time – when rock was truly psychedelic, breakbeats were gnarly, before jungle got bombastic, before electronica became safe – that really got us excited. Lots of live dance bands leave a strange aftertaste in the ears, I guess it's the ones we see on the festival circuit who aren't doing much that isn't predetermined / pre-recorded, which make us want to get up and do something more risky …
drunkenmermaid.com: What song do you wish you'd written? How would it sound as performed by you?
Lifecycle: Cover versions are delicate beasts. We take ourselves far too seriously so an ironic version of some rancid eighties pop wouldn't feel right … we'd probably end up butchering a classic, trying and failing to improve on a classic melody with our egos in tatters. They say The Beatles maybe 'invented' breakbeat with Tomorrow Never Knows – maybe we could do an extended stoner rock version of that? I have a happy hardcore Hey Jude kicking around somewhere which is ace …
drunkenmermaid.com: What direction is the Lifecycle sound going to take next?
Lifecycle: We holed up for a few weeks this summer in a remote corner of Spain (with no internet) and finished a big batch of new tunes, which are set to form the core of our second album. Lino Cosmos has our rock influence quite upfront, whereas this new stuff is a little deeper. There are still big grooves and subbass throbbing away down at the depths, but the guitars are more ambient playing tuned feedback and less chugging riffs. Things are getting darker and a little hypnotic …
drunkenmermaid.com: What are your best and worst experiences to date?
Lifecycle: We had the pleasure earlier this year of going out on tour supporting the godfather of psychedelia Arthur Brown, which was certainly a high point of our lives to date. High being the operative word. He was one of the first guys to replace his drummer with a drum machine back in the early 70s – so no stranger to fusing technology into his rock. Our sound went surprisingly well with his! A low point was probably the first show on that same tour, when the valves in our guitar amp blew during soundcheck. Sourcing a set of EL84s in the middle of Kendal was a challenge …
drunkenmermaid.com: Tell us a little about your label Ricochet Records – and who is putting out your album Lino Cosmos?
Lifecycle: We set up Ricochet back in 2007, as the labels we were working with no longer wanted to put out anything on vinyl, because everyone was losing so much money! After putting out half a dozen 12"s ourselves, we also had to bite the bullet and have been a digital label ever since … still with a quality over quantity policy. We're pushing some fresh new artists: a guy Kawatin out in Japan, Berlin techno wizard Michael Lovatt, and minimal geniuses Multiple Mono in New York, all doing great work right now. Ricochet has built its own style over the years, so we've taken the band instead to Supersymmetry to release the Lino Cosmos LP. It's very much an independent affair … we do have a booking agent and some contacts helping us spread the word, but we're focused on keeping creative control, doing our thing and trying to avoid getting homogenised in the electronica meat-mincer …
drunkenmermaid.com: What would you like your listeners to know about you?
Lifecycle: Hopefully listening to us perform will give people an idea who we are and what we're about. We don't airbrush things in the studio, and only release videos of us playing live – no music promos or mimed performances. What you see is what you get, warts n'all …
drunkenmermaid.com: Tell us about your live gigs. What is it like to see you perform in the flesh?
Lifecycle: Despite the heavy electronic influences, we really are a live band. Really. Proper live. Studio recordings are one thing, but if people like what they hear they should really come check us bashing it out on stage. We pass our instruments through a laptop and I have a custom controller on my guitar strap to modulate psychedelics into the sound … it's all done live, jammed and fresh each time … kinda hard to describe. Come see us on tour this winter and we will let the music do the talking …
That's a deal. You can get more Lifecycle on twitter and facebook, and check out their video for The Big Picture on our facebook page.