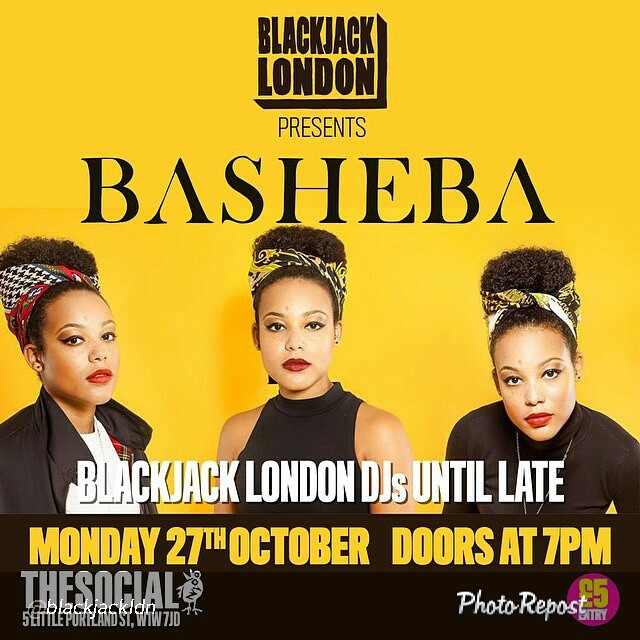 Bad Friends, Good Enemies – the brilliant debut of Basheba
At the end of this month, amazing newcomer Basheba releases her debut EP, Bad Friends, Good Enemies. You may or may not be familiar with her, but one thing is certain – you will be hearing a lot of Basheba in the not too distant future. The North West Londoner blends R&B, blues, and gospel to deliver spectacular vocals and a dark intensity that is laced with hope. We caught up with her out front of the release thanks to Kate Whitmarsh of Space Promotions. This is Dirty Love (Your Love):
drunkenmermaid.com: How did you choose your name?
Basheba: It comes from my favourite place to visit in Barbados, Bathsheba. The scenery and views are amazing. It's somewhere I could never get bored of. So when thinking of a name I decided I wanted a name that meant something to me. It came to me one day and I thought maybe, and that I'd live with it for a while. Then the next day I was on the train to the studio and a woman was carrying a bag with a map of Barbados on it, in bold writing it highlighted Bathsheba. That sealed it for me; I felt it was a sign. When I got to the studio I asked my producer Dean Barratt what he thought and he agreed. I later decided to take out the 'TH' to make it easier for people to remember and spell.
drunkenmermaid.com: What is your favorite original song or album to date? Why?
Basheba: My favourite song to date is the lead track from my upcoming EP. The track is called 'Hold on'. I wrote it at a time when I felt lost. It's a song about young people in the UK and how they are abandoned by society. It's quite deep, if I were to explain the full concept I would need a couple more pages.
drunkenmermaid.com: Who are your major influences? What do you take from them? What do you add or do differently?
Basheba: I am influenced by many different artists and genres. I grew up listening to Marvin Gaye, Rolling Stones, Nina Simone amongst others. I have never tried to replicate what another artist does. I've always tried to use my own experiences and emotions to write and create my music.
drunkenmermaid.com: What song do you wish you'd written? How would it sound as performed by you?
Basheba: I wish I wrote the whole of Marvin Gaye's 'What's going on' Album. I honestly wouldn't change a thing. It's timeless.
drunkenmermaid.com: What does the future hold – is there a particular direction you'd like to take your music?
Basheba: The future is looking very exciting. I'm releasing my debut EP 'Bad friends, good enemies' on the 26th of October. I am also working on my debut album. I love doing live shows so next year I am on a mission to get some festivals.
drunkenmermaid.com: What are your best and worst experiences to date?
Basheba: My best experience would have to be the filming of Dirty Love (Your Love). It was such a fun weekend. And worst. Honestly I don't think I have had a "worst" experience. This past year is easily a contender for the best year of my life.
drunkenmermaid.com: Are you signed to a label? Are you looking for a label?
Basheba: I'm not signed; I do have my own label that I am building at the moment. Being signed by a major is obviously the dream for most artists. But I am enjoying just grafting at the moment. I hope a deal will come when the time is right.
drunkenmermaid.com: What would you like your fans/audience to know about you?
Basheba: I'd like them to know that I'm not as solemn and miserable as I may portray! I'd like to think I'm quite a happy person.
drunkenmermaid.com: Tell us about your live gigs. What is it like to see you perform in the flesh?
Basheba: Being on stage is actually where I am most comfortable. I love putting on a show. My band are awesome, alone they are worth seeing live.
drunkenmermaid.com: Where can we see you in the near future?
Basheba: I am playing at Westfield in Shepherds Bush for Juicy Couture on the 18th of October.
This sounds like a particularly good night to be in Shepherds Bush. Juicy Couture is already on to the next big thing. You can check out the video for No More on our facebook page and get more Basheba on YouTube and facebook.